1 DevelopingPhysio refines the teaching module
2 Qualified physio travels to your community to teach the skills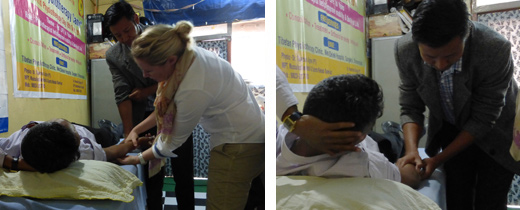 3 Your community chooses which modules you need, then select your student to learn the skills.
On completion of step 3, the student will take an exam and, provided this is passed, move directly into active use of the module in the community. Feedback is also given to DevelopingPhysio at this point to check if further refinement is needed.
---
Where do we work?


DevelopingPhysio works globally, wherever access to rehabiliation is limited and needed. As long as the clinic is safe, there is no community too remote for us, whether a hill station in Nepal, a Burmese jungle clinic, or in Eastern Europe's Georgia, we provide teaching upon request.
We are non-political, non-religious and non-profit making. We wish to empower communities regardless of cast, colour, creed, religion, gender, age, type or cause of disability.
When will it happen?
We are active! We have already developed, trialled and refined modules to great feedback and success. Specialist physiotherapists are presently writing more modules and we are striving to fund the development of these. Once designed, each module is piloted, generating critical feedback to help us to refine its final version.
Rehabilitation is an essential need of all the disabled people around the world. Sustaining and empowering communities with sufficient knowledge and skills to allow them to take full control of their own healthcare is a human right.
DevelopingPhysio is rooted in this concept and works globally to ensure rehabilitation can be provided to any community in the world. We have trialled our work in Asia and Africa and we are confident on the life changing results it can bring to the disabled and their communities.